The 100 Days Project is an inspiring creative community event created by Emma Rogan in 2011.
"Choose one creative exercise, and then repeat it every day for 100 days.
Record each daily effort and see what evolves in the work and in the self over time."
Aplomb Pom
How many pom poms can one make in 100 days?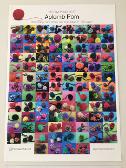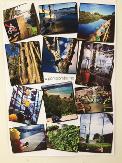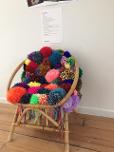 While My Ukulele Gently Weeps
Learn 100 Beatles songs on the ukulele. Playing music has been out of my life for too long. Time to find my strum.
1. Bike-curious and 2.Things That Make You Go Hmm
I adore my bicycle and used to ride everywhere. But since becoming a mum in May 2012 I have rarely used it. I know this is only temporary; I'll get my daughter into a baby bike seat as soon as I can. In the meantime I am going to take 100 different macro shots of my bike, as an homage to this fine piece of design and styling.

Every day for 100 days I will write a positive, fun message on a piece of paper, then fold it into a little star. At the Day 100 Show I welcome anyone to unravel a star and hopefully incorporate my thought into their day.
1. Express Yourself and 2. Write a Book
Take 100 shots of our expressive two-year-old daughter.

Write a picture book. I've never drawn in my life so I'm gonna have to get creative! I want to produce a printed book I can read to our daughter by the end of the 100 days.
The Little Kiwi Book of Months can now be purchased, more info here.