Drummer and percussionist
From 1995 to 1999 I was a founding member of Drumtalk, an African drum group. We performed at Womad ('97 and '99), Auckland Arts Festival, Nelson Arts Festival ('98), Sweetwaters ('99), bFM Summer Series and bFM Private Functions and Critical Mass street parades. We also taught many workshops and held DrumDance events at community centres all over Auckland.

In 1998 I founded Quica, a 4-piece percussion ensemble which performed around Auckland. From 1997 to 2000 I also appeared as guest percussionist with funk brass band The Brassouls, jazz-pop band Otto, sound system Deeply Squeezed, club ensemble The Crackhead Experience, electronic dance group Mesh, art-pop group Submarine, dub ensemble Repeater and CURVE dance company.
In 1998 I also managed The New Loungehead. The band won best NZ Jazz Album in that year. As of May 2021 I have reprised my role of manager for the band's reformation in 2022 to celebrate the 25th anniversary of their album.

In 2002 I was the solo percussionist for the theatre production 'Latin Lovers Live Onstage' at the Bondi Pavilion, Sydney.
Some press clippings below:

Drumtalk - Auckland Festival, 1998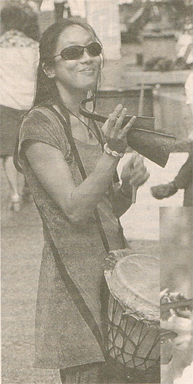 Quica - City Life cover, 1998